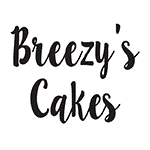 WOULD 100% RECOMMEND!
Professional service from booking in to receiving the report. My inspector was a great communicator, arrived on time and was super friendly. Very impressed with the service and would 100% recommend these guys!
Bree N | Breezy's Cakes – Brisbane Client
Atousa Salehpour
01:36 16 Jul 19
Brett was right on time, very thorough and extremely friendly. He was also extremely helpful in providing me with a number of useful renovation tips and ideas that i will be following through on. Highly recommended.
Michael Hall
19:51 08 Jul 19
Prompt & professional, booking was easy & very short lead time. Reports supplied before COB on day of inspection. Low Stress & great to deal with!
Alex Richards
02:23 26 Jun 19
We had an excellent experience with Your Building Inspector. Chris was able to accommodate our request for an inspection within 2 days. He was professional, knowledgeable and genuine. Highly recommended.
Brett was very professional and got our report to us in a timely manner. He was approachable and pointed out the few minor defects to the property. Very happy to recommend Brett to anyone needing a Building report.
Maryanne Hudson
05:33 25 Jun 19
Glenn was amazing. Same day service provided (totally hassle free for the entire process) and a thorough job on the building inspection - little things picked up that others would have missed. Would definately recommend.
Andrea Lynch
10:43 18 Jun 19
Everything went like clockwork right from the start of my requesting a quote for a Building & Pest Inspection. Chris made contact very shortly after my request to sort out my needs and came up with a very competitive quote, organised a convenient time for the inspection and turned up on time. The inspection was very comprehensive and detailed with Chris keeping me involved when he thought appropriate. The report was then delivered on time as promised. Highly recommend
Quick response and thorough report. Recommend!
Renee Dixon
00:21 14 Jun 19
Chris was on time, professional and very informative, I highly recommend.
Darleen Clark
00:52 12 Jun 19
Chris was very approachable and flexible to our needs. He provided a comprehensive building and pest report and then followed up with a phone call to explain everything to me in simple language. He also provided the best price compared to about five other companies. Highly recommended!
Joni Levine
22:00 10 Jun 19
We had a very professional and enjoyable experience with this company. From the moment I called they were friendly on the phone and organised my inspection quickly. Glenn the inspector was great - our report arrived the same day as the inspection and it was accompanied by a phone call from Glenn who explained things easily for us. Would highly recommend. Plus they gave me the cheapest quote when I was calling around.
Tessa Hardy
03:00 10 Jun 19
Great Service, fast and efficient booking times and a very thorough inspection.Our building inspector, Chris worked in with us so that we could attend the inspection. He talked us through everything he came across and gave us plenty of time to ask additional questions.After the inspection Chris had the finalised report to us within the hour. Very impressed!!!
Cheyne Kent
23:15 09 Jun 19
Professional service, great communicator and was on time and friendly. Would 100% recommend these guys!
Bree Nield
02:53 30 May 19
Telicha Richardson
06:18 24 May 19
Highly recommended... very thorough with their inspection, friendly, intelligent and well informed. I would have no hesitation in recommending their service. Great signage !
Margot Taylor
01:14 23 May 19
Chris was prompt, professional and was able to provide clear advice as to what he observed and assessed. Great service.
David Murrin
04:42 17 May 19
Fantastic service..prompt, personal and professional.
Margaret Bright
06:32 30 Apr 19
Shane Pike
04:23 23 Apr 19
Very good, very precise. found hard to find defects in pre purchase reports
northgate brisbane
06:15 16 Apr 19
Booked an inspection at short notice and Chris returned call to book a time straight away.Met at the property by Chris right on time. He was really efficient and knowledgeable and whole job was completed within a couple of ouple of hours. Report emailed same day to agent and myself. Highly recommend Your Building Inspector.
Ron Waters
03:34 15 Apr 19
Had Chris come out recently for a pre-purchase inspection, he was great, very thorough. His experience as an owner builder really showed as well. He picked out several items not shown in the agent/seller supplied report too so we were very impressed. Happily recommend Chris from Your Building Inspector for building and pest inspections.
Chris Anderson
23:35 19 Mar 19
What a great bloke. Couldn't have been more professional
Colin prestridge
06:12 09 Feb 19
Tony was extremely prompt and thorough. He went out of his way to meet our timing requirements and explain all his findings so we knew what action to take for all. Very pleasant to deal with.
Keith Major
00:19 14 Sep 18
CHEAP RATES. QUALITY INSPECTIONS
At Your Building Inspector we've recruited the best local building inspectors in your area. We provide transparent pricing and a no non-sense service for property buyers.
What does this mean for you? Basically, all the legwork has been done and one of our experienced local inspectors will be in touch once you book!

WHY CHOOSE YOUR BUILDING INSPECTOR?
DOWNLOAD OUR SAMPLE REPORT
Download our sample pre-purchase building and pest inspection report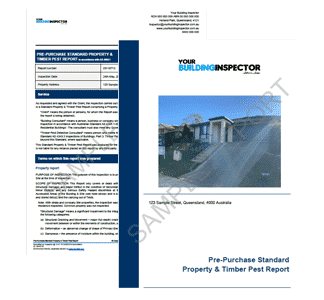 ACCREDITED AND AFFILIATED WITH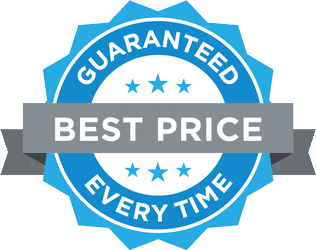 BEST PRICE GUARANTEED
Due to the number of inspections we undertake, we are able to offer market leading prices that are regularly checked and updated. We're committed to providing the best price for our customers, so if you happen to find a cheaper comparable written quote, we will beat it!
Obviously, before requesting a price beat, please double check the quote is coming from a licensed building and pest inspector who holds public liability and professional indemnity insurances. The inspector must also carry a moisture metre, thermal sensor and access equipment to undertake the inspection.
OUR PROMISE TO YOU
We understand that purchasing a property is one of the biggest transactions you will make in your lifetime. Our promise to you is to make this process as smooth and stress-free as possible. We offer fully licensed and insured inspectors at the best rates in your region. Our inspectors are experienced in the property purchase process and will clearly identify any defects or major issues with your property.
HOW YOUR BUILDING INSPECTOR WORKS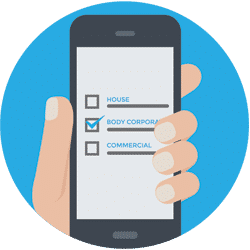 STEP 1
Find your region and check out our prices.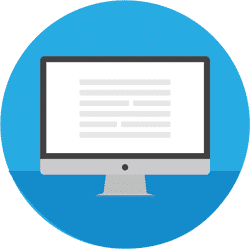 STEP 2
Fill out your quote form.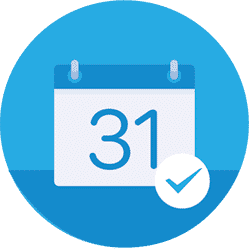 STEP 3
The booking request will be sent to your inspector.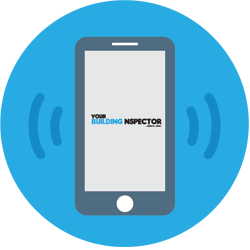 STEP 4
Your inspector will contact you.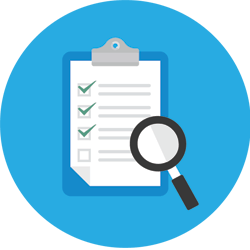 STEP 5
Your inspector will carry out your inspection.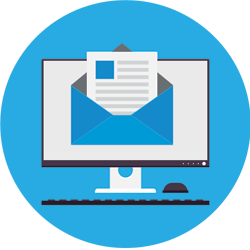 STEP 6
Your inspection report will be sent to you within 24hrs of your inspection.