NEXT DAY BOOKING, SAME DAY REPORT
Licensed Building and Pest Inspection Sydney
WHAT OUR CUSTOMERS SAY
Lynne Paull-McLeod
07:23 24 Nov 19
Brett was friendly, professional and thorough. We received the written report the same day.
Brett was prompt. He was courteous and went about his business in a professional manner. Brett delivered the comprehensive report within 24 hours
Stephen Part
06:43 17 Nov 19
The Inspector was prompt and thorough - he did a great review and the Report was easy to follow (produced overnight), with a lot of photos to show the issues.I was present for the Inspection and think that was a bonus as he was able to show me all the issues and explain the likely cause and effect.
Gail Finnila
20:32 16 Nov 19
Seamless and stress free from booking to report. Would recommend Brett to anyone needing pre-purchase inspection. Very informative and effortless. Thank you!
Allyson Wright
04:27 15 Nov 19
Damien Draper
10:13 14 Nov 19
I looked at the reviews and could not believe it was true.......how wrong I was. Kris was on time, sorry early and already taking photos outside. We bought an older house which needed some work which he pointed out to me. He did a full o inspection and told me it's good to go. Highly recommended. Defi lately be using them again.
Bevan Daniels
12:20 07 Nov 19
So easy to deal with, prompt inspection and prompt report! Generally a great an easy company to deal with. Thank you YBI!
Yvette Alder
05:23 06 Nov 19
Fantastic service. Brett was on time and did an outstanding and thorough job inspecting the property I am purchasing. He took the time to explain his findings in detail so I understood exactly what it meant. I highly recommend these guys to anyone wanting a quality building and pest inspection done.
Glen Beumer
21:52 23 Oct 19
Brett was very helpful and efficient
Robyn Campbell
00:47 23 Oct 19
Chris was prompt and quite thorough with his inspection. I was satisfied with his report. I'd recommend this company to anyone.
Nicola Davis
20:00 20 Oct 19
Brett was friendly and also very thorough with the Building & Pest inspection. Would definitely recommend!
Kirsty McCulloch
00:42 20 Oct 19
Fast next day inspection, inspector went through everything in detail in person and the report was emailed the same day. Couldn't ask for more.
Fiona Evans
00:37 15 Oct 19
Brett was very friendly and professional, and got our report to us very quickly. I would certainly recommend your building inspector!
Caitlyn Walker
00:20 15 Oct 19
Lacey Payne
23:51 12 Oct 19
Arranging for the building inspection on-line was very straight forward and had immediate results. The inspector, Brett, was prompt in arriving at the property and was very amiable and keen to assist in every respect. I would highly recommend Building Inspector Brisbane to anyone having need of their services.
Anthony Scales
06:09 04 Oct 19
Very simple process to organise an inspection. Kris was professional, prompt, and thorough. He made sure to check and see if I had any specific questions or concerns. Inspection Report came through the same day the inspection was done.
Sebastian Silverwood
00:38 04 Oct 19
Very happy with the service, had a great result from Brett and he was very professional and friendly. would highly recommend this service.Thank you
carmel walshnazarathy
08:16 02 Oct 19
Chris was amazing. His expertise guided me away from two properties. A very happy customer. Thank you Chris we move into number 3 in a couple of weeks. No hesitation in recommending.
Gen O'Leary
05:11 27 Sep 19
Used your Building Inspector for a pre-purchase building and pest inspection. The customer service was great. Chris explained everything well and answered all our questions. Chris organised an appointment for us very quickly and was punctual on the day of the inspection and sent us the report the same day the inspection took place. Would definitely recommend your building inspector.
Jade Gladwin
04:35 27 Sep 19
Kris Webb - of "Your building inspector", who conducted the building inspection for our Browns Plains commercial property, we found he is with very good knowledge in building, quick response and recommendation to the finding were easy to understand. Well done
Great response, quality and value.
Yoni Nazarathy
00:19 23 Sep 19
Fantastic service, communication and fast to arrange inspection time. Full report was sent the same day. Thanks
merryan payne
08:44 20 Sep 19
Your Building Inspector was quick to respond to my online request for a Building & Pest Inspection. Kris was punctual, courteous and professional and I highly recommend Kris to anyone needing these services.
Joanne Kiernan
00:59 20 Sep 19
Excellent. Brentt did an excellent job and delivered their services swiftly in Fortitude Valley QLD. Thanks again.
Shojat Munir
01:45 13 Sep 19
Chris was great to deal with very efficient and patient. Got me booked in quickly to. Would highly recommend these guys as so simple to use.
Kelly Holmes
00:54 03 Sep 19
Greg Baird
04:46 02 Sep 19
Fast and reliable service
Ali Dehghan Manshadi
00:14 02 Sep 19
I've employed them for my first house and I can say they've done a perfect job, report came through just two hours after the inspection and it was pretty straight forward (said by my lawyer). Absolutely recommend👍🏻👍🏻👍🏻👍🏻
Brian Aghazadeh
01:23 01 Sep 19
The best service I have ever experienced. Thanks heaps. John Hutchinson
John & Dianne Hutchinson
03:37 27 Aug 19
Prompt service, thorough report and reasonably priced. Would use again
Cindy Heitel
10:38 26 Aug 19
Cory Writer
22:58 13 Aug 19
Used Your Building Inspector for a pre-purchase building and pest inspection. They were amazing. They fitted us in very quickly and charged an affordable price. The inspector Brett was knowledgeable, friendly and gave a comprehensive report. Would definitely recommend Your Building Inspector!
Sarah Clarke
04:34 13 Aug 19
Highly efficient, proactive and professional. Thank you for the great service and advice.
Flowershower Bop
03:01 13 Aug 19
Cheap! Fast booking, punctual, efficient, good eyes to detail and courteous person (Glenn).We've paid upfront só report came within a few hour!Highly recommended!
Alvaro Calegare
02:48 13 Aug 19
2nd time and great service again, prompt & professional!
Alex Richards
04:29 12 Aug 19
Chris was great to deal with.
Vijay Vanmali
00:38 11 Aug 19
Kris inspected our property with complete professionalism and provided the report the same day. We would highly recommend and use again.
john marsh-brown
05:01 09 Aug 19
Good to deal with, good advice and nicely priced
John Delaney
04:32 27 Jul 19
I am from interstate and was looking to purchase a home with my superannuation for my daughter to rent. I was given Chris's details by a Civil engineering contact with words of praise as a good person to use.Chris totally lived up to the recommendation. He was efficient, thorough, knowledgeable and blunt in his assessment of the proposed property. He was also fearless in recommending we not proceed. This impressed me not just because he was looking after my interests as you'd hope, but because that assessment was based not just on the bricks and mortar but on his knowledge of my total set of circumstances, ie I did not have sufficient financial resources to countermand deficiencies which may continue to surface over time resulting from a poor initial build quality and a subsequent amateurish renovation. I'm using his expertise again as I continue my search, reassured that Chris will lend his considerable skillset to help me get a good purchase outcome.Heather
Heather McGillivray
08:04 26 Jul 19
Brett was very willing to answer any questions I had about the property, he was also happy to take my call a few days later. He was very friendly and approachable. I would definitely recommend him to others.
Sonya Lombardi
06:26 23 Jul 19
Brett recently undertook a residential building inspection prior to purchasing a new family home. Brett was very professional and was extremely thorough in his inspection - you could tell he'd spent many years as a builder, and knew what "good' looks like. He provided photos and even gave me a follow-up phone call after for a post-inspection briefing. Even the realestate agent was impressed with his active, inquisitive and comprehensive inspection. Brett was was a pleasure to deal with and I know that the inspection was genuine - I have since been recommending him to my work mates. Andrew
Andrew Arthur
04:26 23 Jul 19
Chris was excellent to deal with, informative and provided us with regular updates with regards to our job. He provided advice and good commentary on the state of the residence we are purchasing
ShannonAdam Spinks
04:29 22 Jul 19
Brett was extremely helpful. Ontime, thorough and offered great advice. We had our report within 24 hours and he even followed up. I would be happy to recommend him to anyone looking for an inspector.
Sara Addison
02:58 18 Jul 19
Atousa Salehpour
01:36 16 Jul 19
Brett was right on time, very thorough and extremely friendly. He was also extremely helpful in providing me with a number of useful renovation tips and ideas that i will be following through on. Highly recommended.
Michael Hall
19:51 08 Jul 19
We had an excellent experience with Your Building Inspector. Chris was able to accommodate our request for an inspection within 2 days. He was professional, knowledgeable and genuine. Highly recommended.
Brett was very professional and got our report to us in a timely manner. He was approachable and pointed out the few minor defects to the property. Very happy to recommend Brett to anyone needing a Building report.
Maryanne Hudson
05:33 25 Jun 19
Glenn was amazing. Same day service provided (totally hassle free for the entire process) and a thorough job on the building inspection - little things picked up that others would have missed. Would definately recommend.
Andrea Lynch
10:43 18 Jun 19
Everything went like clockwork right from the start of my requesting a quote for a Building & Pest Inspection. Chris made contact very shortly after my request to sort out my needs and came up with a very competitive quote, organised a convenient time for the inspection and turned up on time. The inspection was very comprehensive and detailed with Chris keeping me involved when he thought appropriate. The report was then delivered on time as promised. Highly recommend
Quick response and thorough report. Recommend!
Renee Dixon
00:21 14 Jun 19
Chris was on time, professional and very informative, I highly recommend.
Darleen Clark
00:52 12 Jun 19
Chris was very approachable and flexible to our needs. He provided a comprehensive building and pest report and then followed up with a phone call to explain everything to me in simple language. He also provided the best price compared to about five other companies. Highly recommended!
Joni Levine
22:00 10 Jun 19
We had a very professional and enjoyable experience with this company. From the moment I called they were friendly on the phone and organised my inspection quickly. Glenn the inspector was great - our report arrived the same day as the inspection and it was accompanied by a phone call from Glenn who explained things easily for us. Would highly recommend. Plus they gave me the cheapest quote when I was calling around.
Tessa Hardy
03:00 10 Jun 19
Great Service, fast and efficient booking times and a very thorough inspection.Our building inspector, Chris worked in with us so that we could attend the inspection. He talked us through everything he came across and gave us plenty of time to ask additional questions.After the inspection Chris had the finalised report to us within the hour. Very impressed!!!
Cheyne Kent
23:15 09 Jun 19
Professional service, great communicator and was on time and friendly. Would 100% recommend these guys!
Bree Nield
02:53 30 May 19
Telicha Richardson
06:18 24 May 19
Highly recommended... very thorough with their inspection, friendly, intelligent and well informed. I would have no hesitation in recommending their service. Great signage !
Margot Taylor
01:14 23 May 19
Fantastic service..prompt, personal and professional.
Margaret Bright
06:32 30 Apr 19
Shane Pike
04:23 23 Apr 19
Very good, very precise. found hard to find defects in pre purchase reports
northgate brisbane
06:15 16 Apr 19
Booked an inspection at short notice and Chris returned call to book a time straight away.Met at the property by Chris right on time. He was really efficient and knowledgeable and whole job was completed within a couple of ouple of hours. Report emailed same day to agent and myself. Highly recommend Your Building Inspector.
Ron Waters
03:34 15 Apr 19
Had Chris come out recently for a pre-purchase inspection, he was great, very thorough. His experience as an owner builder really showed as well. He picked out several items not shown in the agent/seller supplied report too so we were very impressed. Happily recommend Chris from Your Building Inspector for building and pest inspections.
Chris Anderson
23:35 19 Mar 19
What a great bloke. Couldn't have been more professional
Colin prestridge
06:12 09 Feb 19
Tony was extremely prompt and thorough. He went out of his way to meet our timing requirements and explain all his findings so we knew what action to take for all. Very pleasant to deal with.
Keith Major
00:19 14 Sep 18
BUILDING & PEST INSPECTION PRICES
Pre-Purchase Combined Building & Pest Inspection
Pre-Purchase Building Only OR Pest Only Inspection
New Property Condition Report
Existing Property Condition Report
Body Corporate Inspection Report
BUILDING AND PEST INSPECTIONS SYDNEY
At Your Building Inspector we pride ourselves on offering an unbeatable service and price for property owners in Sydney. Whether you're looking for a pre-purchase building and pest inspection or a new home condition report, we are here to make sure you gain the knowledge needed to make an informed decision.
All our inspectors are registered builders, as well as trained building and pest inspectors, so you can rest assured they will find issues less experienced inspectors might miss. We also offer same day reports, so there is no delay in getting information on the property. Check out our industry low prices, and when you're ready give us a call to book or use our online booking form!

DOWNLOAD OUR SAMPLE REPORT
Download our sample pre-purchase building and pest inspection report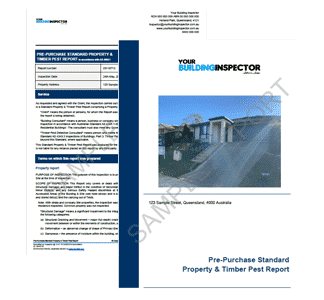 ACCREDITED AND AFFILIATED WITH

YOUR SYDNEY BUILDING INSPECTORS
Your Building Inspector is not only an experienced builder, they are also fully licensed and insured to undertake inspections. Not sure what that means? Let us explain…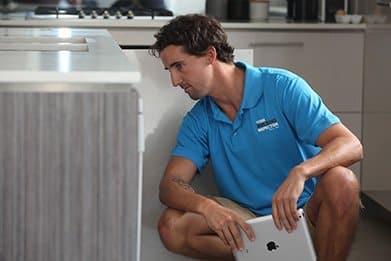 Licensed
In Sydney, it is not mandatory for inspectors to hold a builders licence. Though at Your Building Inspector we ensure that each of our inspectors holds a current builders license, this way we know our clients are receiving advice from an experienced professional. All of our inspectors also hold licenses for building and pest inspecting.
Insured
Each of our inspectors in Sydney is insured with public liability and professional indemnity insurance, so in the unlikely chance an incident occurs, you're covered.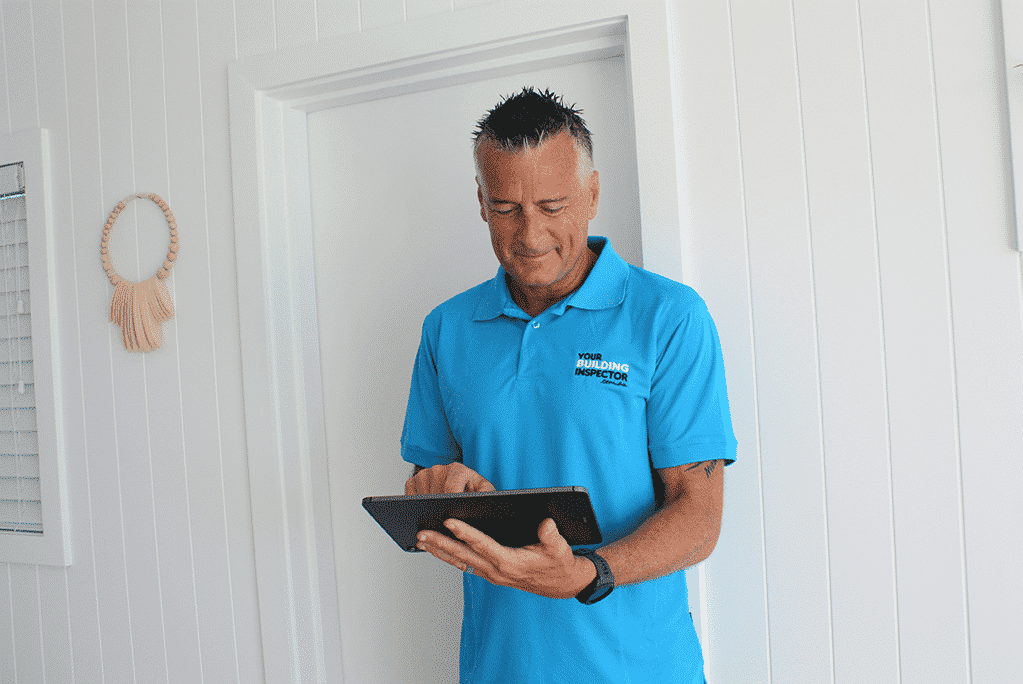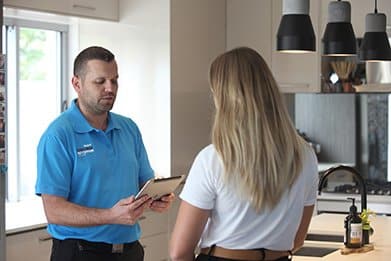 Professional
Our Sydney building and pest inspectors always conduct themselves in a professional and courteous manner. All the inspectors are committed to providing non-bias reports that are thorough and easy to understand. They believe in delivering great customer service and communicating efficiently with their clients.
THE LATEST EQUIPMENT
Not only is Your Building Inspector experienced, licensed and insured – each inspector is also equipped. Our building inspectors carry a moisture meter, thermal sensor and access equipment to every inspection they carry out.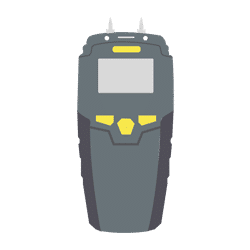 Moisture Meter
The moisture meter records differential moisture levels within surfaces such as walls and floors without the need to make holes or damage the property. Your  inspector will use this meter if there is visual evidence of moisture damage within the property. The moisture meter also identifies termite risk areas by reading the concentrated presence of moisture within the surfaces of the property.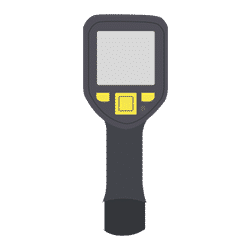 Thermal Sensor
Your inspector will use a thermal imaging sensor within your inspection if visual evidence of termite activity is discovered. This thermal imaging device identifies heat sources generated by termites within building surfaces and helps to trace the termite nest and entry points in the building.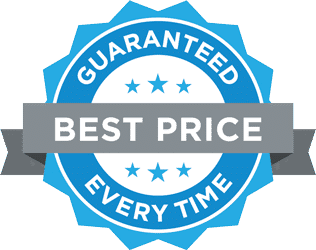 BUILDING INSPECTIONS AT THE BEST PRICE IN SYDNEY
Due to the number of inspections we undertake in Sydney, we are able to offer leading prices throughout the region. Our prices are regularly checked and updated to ensure we offer the best rates around. If you happen to find a better comparable written quote, we will beat it!
Obviously, before requesting a price beat, please double check the quote is coming from a licensed building and pest inspector who holds public liability and professional insurances. The inspector must also carry a moisture metre, thermal sensor as well as access equipment to undertake the inspection.
BUILDING AND PEST INSPECTION SERVICES LIST
Your Building Inspector specialise in a range of residential and commercial inspection reports.
If you're chasing a pre purchase inspection report for your new property purchase in Brisbane, we can organise to inspect your new property and deliver your report within 24 hours.
If it's a Sydney condition report you're after, we can organise this for new or existing properties. Turn around on these types of reports depend on the size of the property, however we will aim to deliver your report as soon as possible.
Pre-purchasing Building & Pest Inspection
A pre-purchasing building & pest Inspection is undertaken when a buyer is finalising the purchase of a property.
The inspection is a visual appraisal of the condition of a property. Its purpose is to identify existing issues, defects or areas of concern.
This inspection is carried out in accordance with the Australian Standard 4349.1.
Your building and pest Inspection will warn you about any major damage the property has, as well as any evidence of termite or pest attacks and any significant water or moisture damage.
Your report will include photos of any significant hazards or defects.
Pre-purchase Building Only Inspection
A building only inspection is carried out when a buyer is finalising the purchase of a property. Its purpose is to identify existing issues, defects or areas of concern in newly built or existing homes, apartments or townhouses.
This inspection is carried out in accordance with the Australian Standard 4349.1.
The report will comment on any structural damage found as well as the conditions conducive to this damage. The report will also highlight any major safety hazards or defects found.
Your report will include photos of any significant hazards or defects.
Buying a property is one of the biggest purchase you will undertake, therefore we recommend booking a combined building and pest inspection to ensure you gain an accurate understanding of the overall property condition.
Pre-purchase Pest Only Inspection
A Pest Only Inspection is carried out when you are confident with the overall condition of the property, but you need to ensure any pest activity is identified. Your inspector will investigate for termite activity or damage, as well as pest attack or damage. Your inspector will visually inspect all accessible areas of your property. Areas that are commonly inspected are roof cavities and subfloor areas, as well as the interior and exterior of the property.
New Property Condition Report
A New Build Handover Inspection is carried out on newly constructed homes, apartments or townhouses and takes place prior to the buyer taking possession of the property. Your inspector will report on any minor defects, incomplete finishes and general defects throughout the property.
Existing Property Condition Report
Otherwise known as a dilapidation report, an Existing Building Condition Report is undertaken to assess the current state of a property, it is generally conducted prior to additional construction or demolition work being undertaken on the property.
Your inspector will report on any visible cracks or movement within the property and the surrounding land.
This kind of report provides the contractor with an independent record of any adjoining properties condition, prior to the commencement of building works. The report may be used as evidence by the contractor if a dispute arises between any property owner claiming that the works have resulted in damage to their adjoining property.
Additionally, property owners also like to undertake an Existing Building Condition Report to determine if any new demolition or construction works have resulted in any property damage that wasn't there prior.
Body Corporate Inspection Report
A Body Corporate Inspection Report is carried out within an apartment, unit or townhouse complex on behalf of the owners. This report includes inspection of all internal and external common areas, including; hallways, entries, foyers, external facades, pool areas, etc. The report will identify areas of concern that will need to be rectified.
LICENSED INSPECTORS, ONLINE BOOKINGS
Use our simple booking process
FAQ
What is a Building Inspection?
A building inspection is undertaken prior to a buyer purchasing a property. It is essential that you appoint an experienced, licensed building inspector to carry out the inspection to ensure all major and minor defects are reported. To learn more about building inspections and other property inspections go to our services.
Are the inspectors licensed?
All of our inspectors are licensed builders who have been operating under that license for at least 5 years. As well as this, all of our inspectors carry pest certifications and their own insurance.
Can I be present at the inspection?
We welcome owners and buyers to be present at the time of inspection, although we ask that you leave the inspector to carry out their inspection and wait to ask your questions at the end. This allows the inspector to concentrate solely on assessing the property to deliver a non-bias report.
Who arranges access to the property?
We ask that you arrange the property to be accessible at the agreed inspection time. We are able to keep our costs down by having minimal time spent on administration.
How long does the inspection take?
A typical combined building and pest inspection will take between one to two hours.
When will I receive my report?
You will receive your report within 24 hours of your inspection. Please note that payment must be received prior to the report being sent.
What equipment is used by the inspector?
Your Inspector will carry a ladder, torch, moisture meter and thermal sensor to your inspection. Please be aware that the moisture meter is only used when visual evidence of moisture is identified by your inspector. The same protocol is followed for the use of the thermal sensor, which is also only required when visual evidence of pest activity is identified.
My post code isn't in your service area, what do I do?
We aim to service the majority of metropolitan and outer suburbs of Brisbane, although if your postcode is not within our service area when you are completing your booking form it doesn't mean we can't service you! Continue to fill out your online form and your closest building inspector will be in touch with a tailored price based on the distance your location is from our main service areas!
I have questions about my report, who do I speak to?
We encourage you to speak with the building inspector who made your booking and conducted your inspection. That way you're dealing with the person who has first-hand knowledge of the property you're buying. They will talk you through any sections of the report you are unsure about.
NEWS